SHALOM!
My name is Slava, I'm a private tour guide in Israel.
I was born in Ukraine and made "Aliya" with my family to Israel. We were on our way to the United States, but with God's wishes, we arrived in Israel.
I have served in the Israeli military in one of the top intelligence units, which was definitely one of the best experiences of my life, getting more mature and acquire different "tools" for the future.
I'm married and have 2 daughters.
I graduated from the University of Tel Aviv and I have a BA in International Relations, my next step was the Israel ministry of tourism academy,2.5 years of great experiences, and tons of knowledge about my love, Israel.
I love my country and after I have fulfilled my duty in the IDF, I work as a licensed private tour guide in Israel, I specialize in cultures, religions, architecture, and archeology.
I crossed Israel back and forth and flipped every stone to tell you as much as possible about my country.
I work as a private tour guide in Israel since 2006 and ranking in the top 10 best Israel tour companies and among the best Israel tour guides, I have been also nominated as one of the best private tour guides in Israel in 2019 by TripAdvisor and won second place!
I speak 5 languages (English, Russian, Hebrew, Arabic, Ukrainian) and my services have been used by the biggest worldwide companies and their guests.
Traveling is my passion and meeting new people is the best thing about my work, I can tell that I never worked a day in my life since I enjoy meeting different people from many countries and open for them a new dimension, I have so many interests and I love sharing my knowledge and my experience with other people, "working" as a private Israeli tour guide Is the best thing that happened to me since it looks like a very complicated job for many people but me this is the easiest and the most pleasant job in the world.
TRAVEL AND GUIDE IN ISRAEL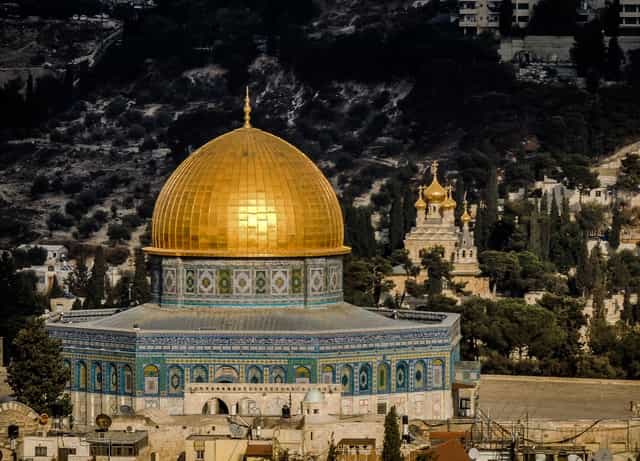 My favorite location in Israel is probably Jerusalem, this is a city that you can explore over and over, and each time discover something new, even as a very experienced tour guide in Israel I have surprises on my Jerusalem tours each time I visit this beautiful city and this is a pleasant moment for me and my dear guests.
Except for Jerusalem, I love to explore Israel outdoors! We have amazing national parks and Heritage locations.
WHAT IS THE BEST TIME TO VISIT ISRAEL?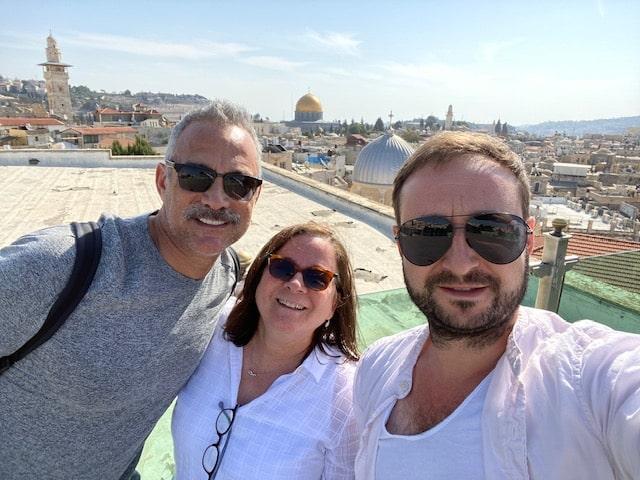 I love cold days, and rainy or snowy weather will make me happy but also at this time of the year(winter) is the best way to discover Israel since we don't have many people and you can explore the country in the right way! the biggest advantage of traveling at this time of the year is the price, I offer great discounts and many surprises such a skiing or special Israel private tours about Battle and Military Heritage.
P.S: Israel is the first country to open for tourists starting from June 1, 2021!! therefore any time during this year or the next one will be perfect for safe traveling after the pandemic periods!
WHO ARE MY CLIENTS AND WHY THEY BOOKING A PRIVATE TOUR GUIDE?
My preferred way to work was choosing to be a private tour guide in Israel since I have the option to meet important and famous people, If you will take a look at my photo gallery you will discover that I have guided celebrities such as Robert De Niro and Sharon Stone, Enrique Iglesias and many many others!
Just tell me where and what profession can provide you a unique chance like this??
I provide
private guided tours in Israel
to families who come to visit the Holy Land and want to have the perfect Israeli holidays or vacation, my duty is to provide the best touring experience in Israel and also A
Bar Mitzvah ceremony
For the boy or Bat Mitzvah for the girl, I guide couples and also specialize in tours for seniors and pilgrim tours so basically my clients are everybody.
DO YOU WANT TO KNOW WHY ROBERT DE NIRO BOOKED MY PRIVATE TOUR GUIDE SERVICES IN ISRAEL?
Everybody knows who is the famous actor Robert De Niro, a few years ago I received a call from the prime minister's office," hey slava, we have a very important upcoming event next month! would you like to guide a celebrity in Israel?"I couldn't refuse and I replied "yes, absolutely" I was nervously waiting to hear the name of my client and then it came, " you will take on a private guided tour in Israel Robert De Niro! you have to show him Jaffa and the old city Jerusalem" I was so thrilled but nervous !!! we spent 3 amazing days with my celebrity and he is actually a normal person :) I guided him in the old city of Jerusalem and the streets of Jaffa and enjoyed every moment.
WHY TRAVEL TO ISRAEL?
Israel is probably the most amazing place in the world combining so many different cultures over the years, so many different people coming from all over the globe, and bringing different tastes, behavior, and heritage!
This is the perfect place to learn about the main monotheistic religions, Christianity, Judaism, and Islam, and visiting the most amazing churches, synagogues, and mosques in the world with the richest history!
Would you like to discover the best places in Israel with the
best

pri

vate tour guide in Israel? on a private tour in Jerusalem,
you can find out about Jerusalem history, who was
king David
or king Solomon or even Jesus.so many famous names were here! amazing old cities such as Jerusalem, Safed, Tiberius, Haifa, and many more, and thrilling stories about the end of the world in one place!
The natural resources of the country are amazing although the country is tiny and has the same size as new jersey!, we have tons of waterfalls and national parks which are a great option for kids and adults, swimming in the Mediterranean or the dead sea but also in the Red Sea or the Sea of Galilee will provide you the largest option to enjoy in one trip!
The
food in Israel
is just amazing, we have a huge variety of different tastes and kitchens gathered over the years so you will definitely find your preferred taste in our amazing country! starting from European cuisine and ending with the Arab kitchen!
The weather almost all year long is perfect for traveling and swimming, there is no other place like this in the world.
WHERE DO I GUIDE IN ISRAEL?
I offer my
private

g

uiding services in Israel
all over the country!
Jerusalem

- the church of the Holy Sepulcher, the Western Wall, Yad Vashem, the Mahane Yehuda market, Israeli Museum, Dome of the Rock, and many more.

Tel Aviv

- Rothchild Boulevard, Neve Zedek, the Promenade of Tel Aviv, Carmel Market, Museums of tel Aviv.

The Israeli coast

- Caesarea including the Amphitheater, Hippodrome, The amazing Grottos of Rosh Hanikra, Haifa- Bahai Gardens, Akko - crusaders hall, secret tunnels, the main market.

Galilee

- Nazareth, and church of the annunciation, Mary's well. Sea of Galilee and Jordan River Baptism Site, Magdala, Capernaum, and many other sites.

Bethlehem and Jericho

- Famous Christian sites related to Jesus.

South and Negev

- the Judean Desert, Masada, and the Dead Sea.
Special attractions for kids such as kayaking in the Jordan river or star gazing in the Ramon crater.
Jeep tours in the Golan Heights along the border with Syria or jeep tours in the Ramon crater.

From Eilat - Jordan, and petra

(at least 3 days).
WHY YOU SHOULD PREFER A PRIVATE TOUR GUIDE IN ISRAEL OVER GROUP TOURS?
2020 is probably the best example and the future of traveling, COVID-19 made us keep a safe distance from each other, that's why traveling in a small family group or a couple and not using a big bus is the safest and the most convenient way today.
Yes, this is not the cheapest way to travel but you will be surprised that the difference is even smaller than you think,
using my services will exclude agent fees and office commission
.
Have your perfect vacation with your individual tourist guide in Israel without any strange people traveling with you and skip the lines in different sites.
WHAT IS THE PRICE OF A PRIVATE TOUR GUIDE IN ISRAEL SERVICES?
A private
tour guide in Israel price
can be very different if you choose to hire me for a full guding day from
Tel Aviv to Jerusalem
without my vehicle the price will be between 250USD to 350 USD per day depending on the duration of the trip and the expenses, for example: booking tickets for the underground tunnels of Jerusalem with a discount for a couple and a full private guiding day will be 300USD, if you book me as a
tour guide in israel with a car
for a full day the price will be around 600USD depending once again of the route and the duration,if we decide to travel for a few days to the north region or the south region in israel the calculation will be different since we have to stay overnight in one of the hotels of guest houses ,in that case there will be an addition aproximatly around 150 usd for my overnight, on the other hand you dont have to cover my meals and gas, nevertheless this is the best option for an individual
guided excursion in Israel
for couples or families since renting a taxi or a driver in Israel and a tour guide separately will be much more expensive.
HOW CAN YOU PAY FOR MY PRIVATE GUIDING SERVICES IN ISRAEL?
Today the technology providing us a lot of different option to complete the procedure, I intend to trust my clients and I usually ask for a small deposit of no more than 10% just to book for you my guiding days, after we finish our touring program only then we can complete the payment by credit card, cash(Euro or USD), PayPal or even Bitcoins!
WHAT IS MY SPECIALTY?
My specialty is organizing boutique tours in Israel, as an expert in the Israeli tourism niche, I am guiding in catholic sites, Jewish sites, archeological and even culinary Locations such as the central markets of Israel, my experience since 2006 made me one of the best tour guides in Israel without a doubt.
HOW LONG IS THE TOUR GUIDE IN ISRAEL COURSE?
My studies in the tour guide school in Israel lasted almost 2.5 years, during this amazing period we learned almost 3 times a week and made one tour of Israel.
The process was very satisfying since you get a chance to learn everything and I mean everything about Israel! after my graduation I began working with small groups and guiding in Jerusalem but very fast I realized that my passion is an individual approach to people and I began guiding in Israel only couples and families.
DO YOU NEED A TOUR GUIDE IN ISRAEL?
Yes, most people arriving in the Holy Land don't know the right places to visit, if you chose to travel with google or a book it is a good option but you won't see the full picture of Israel and the latest Israeli news! as a licensed tour guide in Israel, I can show you and explain things that are hidden and not written in guide books.
I can be not only your
Private tour guide of Israel
but also a trip advisor regarding
every issue about the holy land
starting from VIP services in the airport, driving services across the country, booking flight tickets, or just making for you a perfect itinerary without using my
guiding services in Israel.
CONCLUSION
I organize the perfect trip from A-to-Z to all my clients so the only thing that you need to do is just call me or send me an email and I'll take care of all the rest, my mission is to be the best tour guide in Israel not for a medal but to provide you the greatest service that I can give about my love, Israel.
I invite you to read my website and choose your preferred day tours or full
Tours in Israel
, Don't hesitate to contact me even if you don't plan to book your next journey to Israel with me.
Let me show you Israel you've never seen before, trust someone who really loves this small and magical place.

See you soon, Slava.